Part # 2424POL100F1240W
Panels are made from .090 Styrene. Frame is made out of square PVC tubing.
Comes with 2 panels printed 1 sided each.
Built-in safety chain prevents the frame from opening too far.
Rubber caps on the ends of the frame provide additional grip and protection.
Each sign comes individually wrapped in a plastic bag for protection and storage. We encourage you to store the sign unit in this bag to avoid scratching.
Styrene, due to its natural properties, will "yellow" over time. Therefore, replacement panels will not be provided due to "yellowing".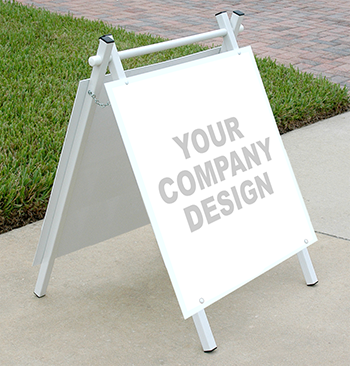 A Durable A-Frame at an Economy Price!
All Plastic Sign Frame
Attractive and strong, no rust, no splinters, no maintenance
Molded handle for easy portability
Built-In Stabilizing and Weigh Down Brace
Holds two signs, 24"H x 24"W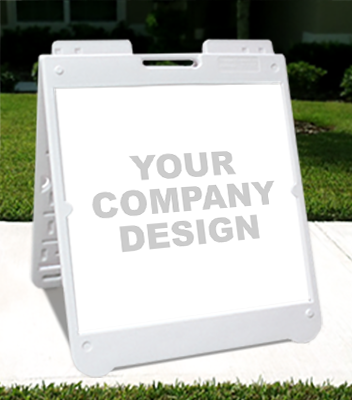 Printed 2 Sides.
Add a photo at no additional charge, if applicable.
Sign frames, posts, stakes & hardware sold separately.
When sign panels and frames are purchased together, we will assemble the two together at no additional charge.
Signs are produced with rounded corners unless printed on corrugated plastic or otherwise noted.
24" x 24" Double Sided Panel with White F64 A-Frame Unit.
3/8-inch steel round rod, 36-inches tall and powder coated white.
Includes a built-in top rider slot and a handle for easy transport.
Flags & poles can be attached (sold separately).
Poly - 0.100
Part # 2424POL100F1240W
- 11.5768
Polyethylene "Poly"
This popular economic plastic material is .100 thick (i.e. about the thickness of 1 quarter and 1 nickel), extremely durable, and performs well in all weather conditions. Ink adhesion is excellent! Polyethylene signs should last 3 years in most conditions. Polyethylene, due to its natural properties, will "bow", sometimes being more apparent on darker sign panels and/or imprints, and as material ages. If this situation may cause you concern, it might be best to consider using an alternative material. Oakley Signs & Graphics will not be responsible to replace any poly material that bows.