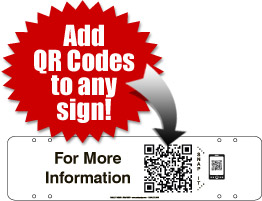 QR Codes for real estate signs - what are they?
What are QR codes for Realtor Signs and Yard Signs? A QR Code is a type of bar code that consist of black modules arranged in a square pattern on a white background. QR codes are readable by QR barcode readers and different types of camera phones. Taking a photo of the QR code with a device such as a smart phone allows the user to access information in a variety of ways including text and photos about a real estate listing, a website link or email.
QR codes can be found in magazines, business cards, and more importantly to you, a real estate yard sign. QR codes combined with an online QR Code service can allow you to provide information about your listings instantly to your potential buyers.
How QR Codes can help you earn more!
Getting your listing information in the hands of potential buyers is a vital part of the sales process. The quicker and easier you can do this the greater chance you have of making a sale. QR codes are designed to do just. The process works like this; First you add QR codes to your real estate yard signs. Potential home buyers see the code on your sign in front of your listing. They then scan the code using their smart phone and the information about your listing is then sent directly to the buyers phone. It's really that simple!

How do I get started using QR Codes on my Signs?
I already have QR codes
If you have already generated your QR codes then all you need to do is have the codes applied to your yard signs. If you want to add the codes to your exsisting signs then you can do so by having the codes printed as stickers (remember you'll need two stickers per sign). You can also have your codes printed directly to any new signs. When you order your new signs just send your codes to your sign company. Oakley Signs & Graphics will print your QR codes to any new signs for free.
I don't have QR codes, how can I get them?
There are several websites that can be used to generate your QR codes such as www.kaywa.com.

Without a doubt though the simplest and most advanced service around, in our opinion, is the OneCode™ system found at www.oneqrcode.com. The unique OneCode™ service allows you to use a single code for all of your signs and Oakley Signs & Graphics will print this code to any new signs. You can also request free stickers to use on your existing signs.

If you don't already subscribe to a QR code or Text Message Service, we recommend you visit www.oneqrcode.com and signup today. This service will give you everything you need for success!
Already have a QR Code and need Signs? Click here.