ARTWORK FEES
Below are guidelines for sending us your art files. We realize that you might not have the exact "VECTOR" file format that we need to make signs for you. That said, we can convert the file for you or create custom artwork, however we will likely have to charge an additional fee of $75 per hour to "convert / trace" your supplied artwork into "VECTOR" based format we can use to print.
In addition, we will ask for an additional 24-48 hours to create your artwork.
VECTOR File Types accepted: .ai .pdf .SVG .EPS
Other File Types accepted**: .jpg .bmp .tif .psd
**May incur a fee
FULL-BLEED SETUP
When submitting your order be sure to note if you would like your sign to bleed to the edge. We add a 3/4" white border to designs as a standard but if you would like your design to print to the edge just let us know.
PREFERRED ARTWORK / FILE TYPES
NOTE: Be sure to include the Font files as well as any Photos and/or Logos that coincide with your artwork.
.ai
Adobe
Illustrator

.eps
Encapsulated
Post Script
OTHER ACCEPTABLE FORMATS (MAY INCUR A RE-CREATION FEE):
NOTE: Use any of the following formats to submit your artwork if the above formats are not available.
.jpg/Jpeg

.bmp/BMP

.tif/Tiff

.psd/PSD

.pdf/PDF
SEND ONLY THE FILES YOU WANT PRINTED
Be sure to complete the approval process within your own company then send us only the final approved design. Submitting multiple files for a single output will only increase the chance of mistakes and possibly delay your order.
SUPPLY US WITH NATIVE FILES
While it is possible for us to print from flattened art files such as JPEG (.jpg), GIF (.gif) and Bitmaps (.bmp) we prefer to receive the artwork in the format that it was originally developed. If the files were created properly as outlined above then having those native art files gives us the greatest opportunity to print your design the way you intended it to be. For instance if you created your artwork in Adobe Illustrator then send us the original .ai file instead of a converted .pdf or .eps file.
SUBMITTING YOUR FILES
For files under 10 megabytes (1 megabyte = 1,000,000 bytes).
We provide an easy to use file upload form. To get to the form, go to http://www.oakleysign.com/store/upload. Fill out the required fields on the form and upload your file. If you have more than one file to upload, either archive them into one single file or upload one file at a time (there will be an option at the end of each upload process to repeat the process for your next file).
For files Larger than 10 megabytes.
Go to https://wetransfer.com which is a free online file transfer service. On the landing page you should see a form on the bottom left.
Select the file you wish to send us; multiple files should be "zipped" to ease transport. Enter a description of the file you're uploading so our staff will recognize the file. Enter uploads@oakleysign.com in the "Recipient's email" box and your own email in the "Your Email" box.
If you've read and agree to the terms of service you can begin your upload. Upload time is directly related to the size of the file you're uploading. This could vary from a few minutes to upwards of over an hour depending on the speed of your connection to the Internet.
DESIGN TIPS FOR CREATING YOUR ARTWORK
There are just a few simple rules to follow when creating your artwork that will help to insure a quality output from our printers. NOTE: All of our signs include a 1/2" to 3/4" white border. Additional charges may apply for full bleed signs.
Create the artwork in the size of your final output. If you are creating artwork using raster based software such as Adobe Photoshop or if you are using vector based software like Adobe Illustrator or CorelDRAW and your design has raster images such as photos then you must create your image the same size as your final output. For instance if you are designing for an 18" x 24" sign panel then your artwork should be 18" x 24" at 300dpi. If you're using vector based software and all elements of the design are vector based then your artwork can be scaled and you just need to be sure to create the file in the exact aspect ratio of the intended output.
Create your artwork in CMYK. With the new age of digital printing most of our products are now printed digitally using CMYK values. In order for us to match your colors as close as possible, it is optimal that you supply us with the CMYK value for each color in your artwork. If your artwork contains photos or other full color images your artwork will be printed as full color. Please designate in your artwork or on supporting documentation what the exact CMYK values are. If you would like to match your colors to PMS values then please supply those as well. To avoid possible mistakes and delays DO NOT rely on our artist to select CMYK colors from your artwork for you.
Bleeds and Crops. All of our signs include a 1/2" to 3/4" white border. If your design will include a bleed area please allow for a .25 inch bleed on all sides. Crop marks are not necessary. Additional charges may apply for full bleed signs.
GIVE YOUR DESIGN SOME SPACE
Your signage can't do it's job if it can't be read so be sure to give all critical elements such as text and logos sufficient space from the edge of the sign. For signs, riders, car magnetic and other solid print products a general rule of thumb is to allow ¾" to 1" of space from any edge. For banners and other materials that may have a stitch area or grommets a 1" to 1 ½ " border is preferred.
PHOTO GUIDELINES
A general rule for sending photos is to send the photo in its original form as the digital camera created it. The original photo used determines the final output of your photo on the sign. In addition, the photo should be as close to the output size as possible. For instance if the photo area of the sign panel you are ordering is 5" x 7" then you should supply us with photo of similar size. Here are a couple of common Do's and Don'ts when it comes to photos:
DO send us high quality digital or printed photos.
DO NOT send us scanned business card photos or photos printed on a desktop printer.
DO send us the native art file if you have cropped your photo.
DO NOT submit photos taken with "softening" or "fantasy" filters. These types of photos will appear out of focus or blurry.
ENLARGING HIGH RES PHOTOS

Starting with a photo that is of high quality, and close to the size you want printed on your sign, will result in a clean image being printed to your sign.
ENLARGING LOW RES PHOTOS

Starting with a photo that is too small, or of poor quality, will result in your image looking pixelated or blurry when it's printed to your sign.
ACCEPTABLE PHOTO FORMATS
NOTE: Use these formats for optimal photo print quality.
.jpg/Jpeg

.bmp/BMP

.tif/Tiff

.psd/PSD
CHECK THE RESOLUTION
While it is possible for us to print full size files at 72 dpi your images will be significantly cleaner and more vibrant if 300dpi or higher resolutions are used. As outlined above optimal results are achieved when the artwork is created at full size and we are supplied with those native art files.
ENLARGING HIGH RES IMAGES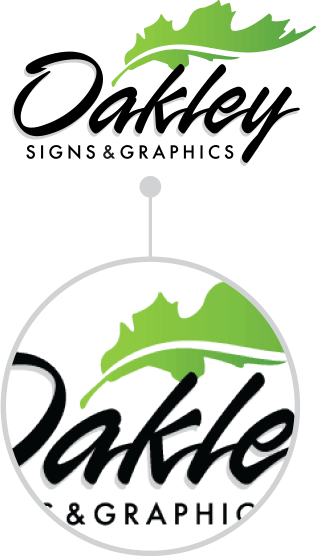 On the other hand if you are enlarging a vector file, or full size 300dpi jpg or png file the file will print clean more like the original file.
ENLARGING LOW RES IMAGES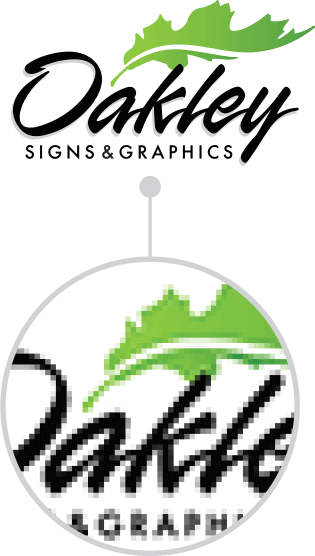 When enlarging a small 72dpi web type image, such as a jpg or gif file, the final larger image will appear blurry or pixelated on your sign.