15 Home Staging Tips for Sellers
Home staging is the set of actions necessary to prepare your home for sale. Staging a house is an essential task that pays actual dividends.
This article will review everything you need to know about how to stage a house for sale, including the benefits of house staging and the reasons for staging your home for sale.
We'll also cover these top 15 home staging tips:
Why Is Staging a Home Important?
Staging a home is crucial because it allows potential buyers to see your home with fresh eyes. The National Association of Realtors' 2021 Profile of Home Staging revealed that 82% of buyers' agents said buyers could more easily visualize a staged house as their own home.
According to that same report, 47% of buyers' agents said that home staging affected most buyers' perception of a home.
HomeAdvisor reports other benefits of staging a home to sell. It says that staged houses are on the market for 33% to 50% less time than non-staged houses. HomeAdvisor also reports that a staged home will sell for 20% more than an non-staged home. Following our home staging tips will allow you to take full advantage of these trends.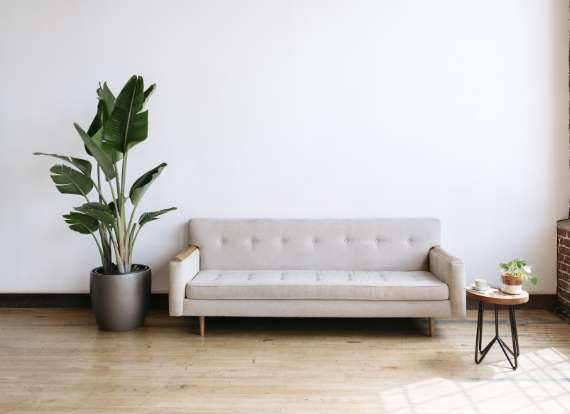 How Much Does Home Staging Cost?
According to Fixr, the average cost of hiring a professional staging company is $1,000 to $3,000. If you decide to manage your own home staging, your costs will depend on activities like leasing storage units, renting furniture or repainting rooms. Many of our home staging tips cost little to no money. The most significant investment when staging homes is often the amount of time your staging efforts take.
Top 15 Home Staging Tips and Tricks
Staging a home doesn't have to be complicated. Although staging a house can take time, it's worth it if you follow these home staging tips for sellers.
1. Talk to Your Real Estate Agent
Even if you don't go with a professional stager, you can still get professional advice from your real estate agent. They can provide an honest appraisal of your home's needs and also offer insights into what's being done with other staged houses in your area.
2. Clean From Top to Bottom
A deep clean should be the first step in staging houses. Scrub every room of your home and pay special attention to details. The bathroom and kitchen should be sparkling, and the baseboards pristine. Wipe down walls, and make sure to attack every nook and cranny, including the spots you think no one will see.
3. Declutter Every Room, Closet and Cupboard
Nearly everyone has too much stuff. Once everything is clean, go through your whole house and remove the clutter. Throw out old magazines and newspapers, and stash toys, games and hobby projects away. Take particular care to remove unused clothing and unneeded items from closets and cupboards. Overstuffed storage areas make it hard for buyers to imagine there's enough room for their belongings. Staging a house for sale should include every area of your home.
4. De-Personalize Each Area
Highly personal decor can turn off buyers and make it hard for them to envision themselves in your home. When you're staging a home to sell, store away personal items and family portraits — and don't forget to remove personal photos and mementos from the front of your refrigerator. Every space counts.
5. Make Minor Repairs
Leaky faucets and squeaky doors make buyers feel like they'll have too much work to do once they move in. House staging should include minor repairs for these issues as well as things like superficial wall cracks and running toilets.
6. Consider Painting
Brightly colored or dark walls can kill a buyer's interest in a home. If it's in your home-staging budget, plan to repaint rooms in warm, neutral colors that reflect light and don't detract from a room's overall look and feel. This is an investment that can really pay off in a buyer's perception of your home.
7. Remember the Floors
Dirty, stained flooring automatically turns off prospective buyers. Your deep clean should include a thorough scrubbing of all tile and vinyl flooring, a good polishing for wood floors and an intense steam cleaning for carpets. If you can afford professionally cleaning your carpets, that's all the better. Remove or replace soiled, tattered area rugs as you're staging your home to sell.
8. Rearrange or Remove Furniture
You'll want every room of your home to feel roomy and comfortable. Pull furniture away from walls to make a room seem bigger. Rearranging furniture to match the natural traffic flow through your home also helps, and don't be afraid to move some unnecessary furniture to a different room or to storage. If your furniture looks cheap or outdated, you may want to replace it by buying or renting new pieces. Staging a house can require some compromises.
9. Give Each Room a Purpose
Buyers imagine all sorts of things when they view a house, often to your detriment. But house staging allows you to mold their perception to your advantage. Make sure the function of each room is easily understood by clearing out unnecessary items. For instance, you don't want hobby supplies covering your dining room table. Your dining room should look like it's ready for Thanksgiving dinner. The living room should look like it's all set for a cozy get-together. You can make simple changes by converting a junk room into a game room or a finished attic into a reading nook.
10. Let in the Light
Your deep cleaning should include washing all windows inside and out, which will let in more natural light. If you hang light-colored curtains, that can also increase the amount of natural light in a room. You'll want to make sure lighting fixtures have been cleaned and that all the lights are in working order.
11. Banish Unpleasant Odors
Strange smells are another turn-off for a potential buyer. As part of your house staging, use odor sanitizers to clean unwanted odors from rooms and closets. You don't want Fido's funk derailing a possible sale. Pleasant smells, on the other hand, can help make a sale. Consider lighting candles with neutral smells like vanilla when your house is being viewed.
12. Freshen Up Appearances
Potted plants and fresh flowers can create just the right appearance. When you're staging your home to sell, strategically place real plants and flowers to enhance your home's look. A few well-placed throw pillows can also provide a welcome pop of color to contrast with your neutral room tones.
13. Boost Your Curb Appeal
Your home's look from the outside significantly influences a potential buyer's feelings about your property. Your home staging process should include a good scrub (and maybe a repainting) of your front door. Make sure your landscaping is in good order and that the walk up to your home is weeded. You'll also want to keep the grass mowed for a fresh, inviting look.
14. Maintain All Outdoor Spaces
Staging a house for sale extends to your backyard. Thoroughly clean your outdoor furniture and grill, and ensure your backyard landscaping is neat and appealing. Potential buyers will appreciate the inviting oasis you create.
15. Don't Let Up
Staging homes isn't a one-and-done effort. If you're serious about selling your house, you'll want to take some effort on a day-to-day basis to keep your home neat and ready to show. A well-staged home can make all the difference in a sale.
Home Staging Starts With Oakley Signs & Graphics
These home staging tips will get you on the way to selling your home, and as your real estate agent's best friend, Oakley Signs & Graphics will help get you across the finish line. We have the sign panels, posts and frames they need to show that your home is for sale and ready to be seen. Leading Realtors trust us to help draw prospective buyers into their customers' homes.
Shop Now