Get the Most from Your Efforts
As auctioneers and real estate professionals, you know that every successful auction begins with a successful marketing strategy. At the top of your marketing "to do's" will include the purchase of yards signs, directional signs and bandit signs to help inform and direct your potential bidders to your auction. Since 1972 has been a leader in auction yard signs, directional signs, roadside bandit signs, as well as the sign frames, stakes and accessories. Everything you need to succeed!

We will digitally print your signs, putting your custom artwork or message directly onto the sign. If needed, we can even provide you with professional art and design services to help layout your sign message. In addition to printing on the popular and highly economical corrugated plastic (cor-x or coroplast), we also print on aluminum, reflective aluminum, polyethylene, polystyrene and PVC. You'll also find a large selection of sign stakes, frames and post as well as accessories such as brochure boxes and business card holders. Click here to start shopping for auction signs and accessories.

Click here to start shopping for Auction Signs.
---
FEATURED PRODUCT
18" x 24" Auction Sign with Date & Time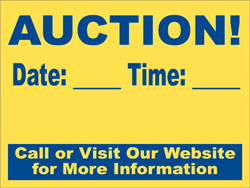 These 18" x 24" Corrugated Plastic Sign Panels are durable light weight panels that won't yellow and stand up well in all kinds of weather conditions. Purchase as a stock message or add your custom imprint.

Shop Auction signs...

Using Bandit Signs to Attract Bidders.
One of the most cost effective ways to spread the word of your upcoming auction is with the use of Bandit Signs or as many call them "roadside signs" or "snipe signs". These roadside wonders have become a staple part of auctioneers and real estate professionals across the country because they inexpensive and versatile. Their low cost allows you to purchase them in large quantities and strategically place them to cover large area.

Remember Simpler is Better
As a nationwide sign supplier we have produced millions and millions of signs of all shapes and sizes for just about every industry you can think of. All of those signs and our 30 + years of experience have taught us many things about signs. One of the most important is that Simpler is Better. Say what you need to say on your sign, but do so with as few words as possible. Keep the message short and to the point and make sure you use clean easy to read fonts and graphics.

Keep in mind that our friendly sales staff and design professionals are always available to help you get the most from all your signs. Give us a call today at 800-373-5330 or click here to start shopping for auction signs right now.

What others are saying
"Great Customer Service, Quick Response time. Had a few boxes that were damaged during shipment but a credit was provided in a timely manner."
Read more testimonials

Get your Free Report!
The naked truth about how to profit big when the market is down! Best of all, it's FREE! Sign up today!
Sign up now!

Free Help For Real Estate Agents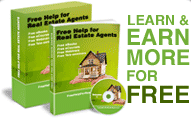 Free real estate eBooks, podcasts, and online courses to help real estate agents succeed!
www.freehelpforrealestateagents.com

Our free newsletter
Enter your email address to signup for our email newsletter. Also receive coupons and special discounts.