When a Sign Just Won't Work
Let's say that you need a "sign", but not a "yard sign". Maybe a banner will do? Perfect. We have just what you're looking for.

Our thick, rugged vinyl banners offer top-of-the-line tear resistance and high impact images at exceptional prices.

We can digitally print your full color artwork / graphics right onto your banner. We can even provide you with professional design services if needed.

We print banners for event planners, schools, churches, sports teams, government agencies, politicians, real estate professionals, auctioneers, party planners, small business, big business, as well as individuals. We've printed banners for special events, party announcements, graduation notifications, grand openings, trade shows, big sale events and much more. Using our state of the art digital printers, we can virtually print any message you can come up with.

Did you know…
Did you know we ship banners nationwide everyday! Did you also know that we have more than 35 years of experience in the printing industry? Our years of experience, commitment to quality, and dedication to superior customer support all mean that you rest easy when you order your custom banners with us.

Click here to start shopping for Banners.
---
FEATURED PRODUCT
24" x 60" Digital Banner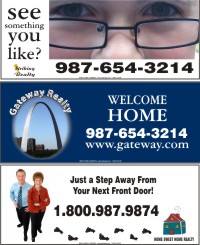 This 24" x 60" digital banner is made from 13 oz. vinyl and comes printed with your full color graphics. Grommets are included on each corner and centered on the top and bottom.

Shop Banners...

Rear Window Banners.
The perfect alternative to magnetic vehicle signs! These 10" x 16" full color banners are designed to adhere to the inside window of your car using suction cups. Use these attractive, unique banners to turn your car into an official advertisement for your business! Click here to purchase your Rear Window Banner today.

Tips for Making a Better Banner
Here are a few helpful tips to help you get the most from your custom banner.

First you need to consider where your banner will be placed and how it will be seen. You'll want to make sure the banner is large enough to be seen but not so large that it looks cluttered or is too large to be hung securely.

Second, you need to make sure your message is short and to the point. Craft your message in as few words as possible and make sure you use easy to read fonts and artwork.

Next you need to consider your colors. You want your banner to have contrast from the area it is hung from so it stands out and can be noticed.

Lastly, consider the shape. Horizontal banners work best because of the way we naturally read. Tall vertical banners can work well when your text is limited and your message is being conveyed with vertical art or design. Just remember our courteous staff is always standing by to help you with your banner needs. Just give us a call at 800.373.5330 or click here to shop online for banners.

What others are saying
"I have received my signs and they look great! It was a pleasure doing business with Oakley Signs. Thanks for your personal service and professional handling of my order. I look forward to doing business with you in the future."
-L. Witmeyer
Read more testimonials

Get your Free Report!
The naked truth about how to profit big when the market is down! Best of all, it's FREE! Sign up today!
Sign up now!

Free Help For Real Estate Agents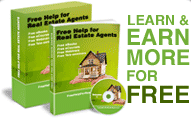 Free real estate eBooks, podcasts, and online courses to help real estate agents succeed!
www.freehelpforrealestateagents.com

Our free newsletter
Enter your email address to signup for our email newsletter. Also receive coupons and special discounts.