Real Estate Marketing Trends & Sign Ideas to Get Your Listing Noticed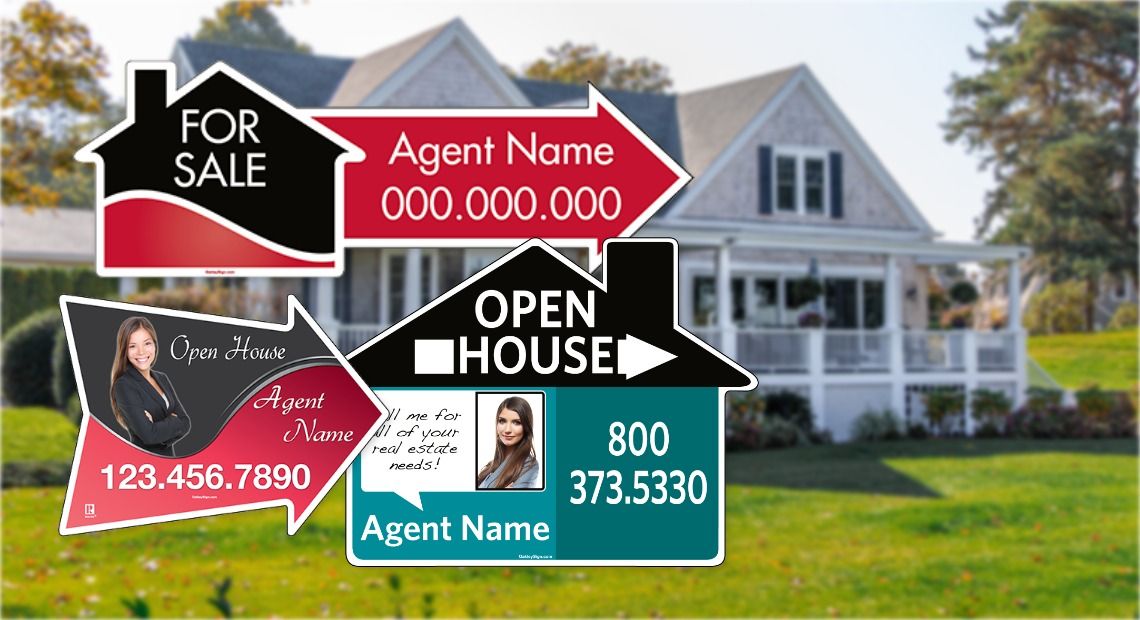 Today's real estate marketing trends go beyond the typical real estate signage to get your listing noticed in new ways, often with the help of technology.
Keep reading for fresh trends in real estate marketing from Oakley Signs & Graphics, including cutting-edge real estate sign ideas to help generate more leads for your listing.
Tech Trends in Real Estate Marketing
The top trends in real estate marketing center around using technology to deliver a customer-centric buying experience. As a professional Realtor, if you haven't already, now is the time to embrace technology for reaching potential buyers online.
According to the National Association of Realtors (NAR) 2022 Digital Trends Report, nearly all homebuyers use the internet to search for a home. Of those users, 67% want to see a floor plan, and 58% would find a virtual tour of the listing useful.
Prioritize customer experience by giving interested buyers the detailed listing information they want.
Virtual Reality & Virtual Staging
The future is here. One of the top tech trends in real estate marketing is virtual reality (VR), and it has reshaped real estate industry marketing. Not only can clients tour a home from anywhere, but VR also provides a more cost-effective way to stage a home.
Staging a home helps it sell close to 90% faster and for up to 20% more, so it's no wonder sellers will pay for this expensive service. Virtual staging is a real estate marketing trend many agents embrace and even provide for their clients.
Dynamic QR Codes
While they are not exactly a new technology, Realtors have been using Quick Response (QR) Codes on real estate signage to gain a digital advantage in the marketplace. Because QR Codes are 2-dimensional versus the 1-dimensional horizontal strip commonly seen on packaging, these small squares store more information that is faster to access.
Modern real estate signs contain dynamic QR Codes which can align with other marketing efforts like business cards and flyers. When potential buyers scan the codes, they immediately connect to an agency, Realtor or, even better, a single property website, where they can access the property's pictures, videos, virtual tours, Realtor contact info and more.
Beacons
Beacons are one of the latest real estate marketing trends and have incredible potential to reach many people by beaming messages to the cell phones of Bluetooth-enabled passersby.
This can be very effective for getting the message out about an open house. Many buyers are already out cruising the area where they are interested in purchasing their next home. Effortlessly let them know where to find your listing and welcome them in for a look without seeing them first!
Trends in Real Estate Marketing: New Takes on the Classic Yard Sign
Real estate signage isn't exactly on the cutting edge of real estate marketing trends, but signs have stood the test of time and remain one of the best ways to reach potential buyers. Considering what local ordinances and HOA regulations allow, here are some real estate sign ideas for your next listing.
Features of Modern Real Estate Signs
Less is more to capture today's clean and modern look — and increase real estate signage visibility.
Cool, modern real estate signs have high-contrast colors and minimal text – think two to three colors with prominent lettering. Lighted real estate signs have the added advantage of being seen at night, and the low cost of LEDs means lighting isn't just for modern luxury real estate signs anymore.
Modern real estate signs can also feature a photo, which is especially suitable for homes being built. Get buyers excited about the future property by showing a picture of a rendering, floor plan or model home. Real estate signs with a photo give people an inside look, stoke their curiosity and encourage them to come in and see more.
Unique Sign Shapes in Real Estate Signage
68% of home sellers use lawn signs. So how can you stand out? Don't be a square — try one of these cool real estate sign ideas.
Key. Instead of a horizontal rectangle, how about a key shape instead? Its different silhouette draws the eye and lets the viewer know its real estate signage from afar.
Circle. Circle-shaped signs have a softer look and can take up less space. And, since people are more used to seeing signs with corners, one without edges could be just the thing to capture attention.
Diamond. Not only does the diamond shape help get your real estate signage noticed by being a little unexpected, but the bottom angle is also the visually pleasing location for a dynamic QR Code.
Octagon. Send an extra message to 'Stop' and take a look with this familiar shape.
Of course, depending on the home or neighborhood, yard signs with funky shapes and lighting may be a no-go. Go back to the basics with non-trendy real estate signage like multiple directional signs set up along a major route to your listing's open house.
Riders
Sure, Realtors have been using riders on real estate signage for a long time to designate where the home is in the buying process, like 'Open House' and of course 'For Sale' and 'Sold.' But don't stop there! Riders are an excellent opportunity to toot your own horn as a professional Realtor or highlight special features of the home. Some real estate sign ideas for riders include:
Sold Over Asking
Home Office, Move-In Ready, Home Warranty
Sold with Multiple Offers
Jokes – funny riders we have spotted are 'Gluten Free' and 'Not Haunted'
Try Out These Real Estate Marketing Trends with Oakley Signs & Graphics
Are your creative juices flowing? Hopefully, you have gathered some real estate sign ideas for your next yard sign and maybe are even ready to start incorporating some new tech into your real estate marketing. Trends may come and go, but Oakley Signs & Graphics is always the professional Realtor's go-to sign manufacturer.
Shop Now